We should all thank the fantastic Andrea Bianchi (who also brought us the sleazy
'Strip Nude For Your Killer'
), for his undisputed masterpiece, 1981's
'Burial Ground'
(also known as 'Nights of Terror'...
1981 was a very fruitful year for the fine purveyors of Italian Horror. Lucio Fulci released two fine films: his surreal classic,
'The Beyond'
; and his slightly less awesome
'The House By The Cemetery'
. Umberto Lenzi blessed up with his gore opus
'Cannibal Ferox'
. Bruno Mattei released the seminal
'Porno Holocaust'
...
All of the abovementioned films are fine examples of Italian Directors doing what they do best- entertaining us with sleazy, exploitative horror films. Most of these fine films will very likely be discussed in a future 'Italian Zombie Film Of The Day' entry. Today's slot belongs to the surreal and ludicrous
'Burial Ground'
...
I firmly believe that a picture speaks much more than words can ever hope to. A gore-filled trailer speaks much more than a whole cavalcade of pictures ever could so please view the delicious slice of trailer love below...
This film is pure magic- every bit as awesome as the trailer would lead you to believe. There is so much I love about this wonderful film...
The insane soundtrack, the weird
Boards of Canada
style synth music, the vicious zombies, the gore, the terrible acting, the inappropriate reactions, zombies using tools, and most of all Peter Bark...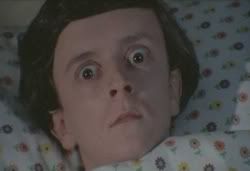 He has a very special relationship with his mother. The fact that Bianchi decided to use an obviously over 30 year old very small man to play a 12 yeard old child with a bizarre Oedipal crush was a masterful touch. And then to use an adult female emulating a 12 year old boy's voice and dubbing that in to use when Mr. Bark engaged in dialogue really took things to the next level...
Bottom line: If you have yet to witness the splendor that is
'Burial Ground'
, do so immediately. If you already have, you know how awesome this films is- Go watch it again!
I leave you with this...